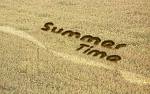 Summertime and the living is easy; that is, unless you happen to be unemployed and searching for a job.  In that case, you are tortured and your level of anxiety grows daily.
In job hunting and recruiting circles, it has long been axiomatic that the periods between Thanksgiving and New Year's Day and between Memorial Day and Labor Day represent the least probable times of the year to secure employment.  And, if one considers the circumstantial evidence, that supposition rings true.  Since achieving employment today involves multiple interviews with decision-makers at various levels of the potential employing organization, opportunities to arrange these interviews in a timely fashion are limited by vacations, holidays, days off, and hiring manager preoccupation with non-business matters.
Yet, these times of the year do present more than just a glimmer of hope to the serious job seeker, because less motivated job candidates will often refrain from pursuing employment opportunities for the very reasons enumerated above.  This means that for those who either from desperation or design actively seek employment during these periods, there will be significantly less competition than during the traditionally more abundant job hunting seasons of the year.
To maximize opportunities during the summertime, as well as at all times of the year, job hunters require a plan to penetrate all areas of the proverbial job market, including both published and unpublished opportunities, and superior marketing materials in the form of resumes, cover letters, and follow-up letters.  With a viable plan to market themselves effectively and job hunting materials of impeccable quality, serious job seekers can utilize the summer season to their advantage in gaining job market exposure and securing employment while many potential candidates sit on the sidelines.
Similar Articles job hunting strategy
Similar Articles job search