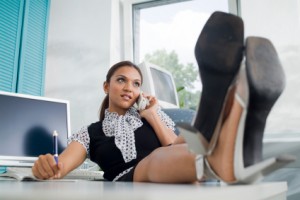 Even before the economy soured, telephone interviews were becoming prevalent as a hiring practice.  Office politics and governmental regulations often demanded that managers give a voice to applicants whose resumes painted them as anything other than perfect fits for the available positions.  Telephone interviews became an expedient means of separating the wheat from the chaff.  The wheat that did emerge (viable candidates) was subsequently granted the more time-consumptive and in-depth interviews.   Employers now facing a gut of applicants do not have the luxury of granting face-to-face interviews to every single candidate.  Thus, the telephone interview has gained even more significance in this tightened economy.
Here is our tried-and-true advice for appearing the type of wheat that employers wish to see sprouting from their company soil.
Ensure that your contact information, as per your resume and cover letter, are correct.  If you are unemployed and list only your home phone, you may miss opportunities.  If you don't own or can't afford a cell phone, be sure to at least include an alternate number on your career documents (i.e., the number of a trusted friend or family member who will accurately record employers' messages for you and alert you of them in a timely manner).  Needless to say, return all calls promptly.  And before you do, set the stage for productive interviews.
Remove all distractions.  These include your screaming toddler, your hard-rock loving teen, the incessantly blaring TV, and your husband, who needs a road map (that would be you) to locate anything edible in a well-stocked fridge.  Telephone interviews are usually scheduled, so you'll have plenty of time to arrange for a babysitter, send the teen to the mall, unplug the TV, and make a sandwich for your hubby. Better yet, tell him to make his own while you concentrate on the job-at-hand that will impact the family's finances.
If you are going to speak on a cordless phone, be sure that it's well charged.  If you think you may need a new battery, invest in one before the interview.  If your annoying neighbors are out riding their lawn mowers and blowing their leaves just before your interview, close all doors and windows to reduce the background noise.  In fact, your best strategy is to have a place of your own, perhaps a home office, from which to speak with the potential employer.
Do your research.  At the very least, know the company's mission and their product or service line.  If the interview has been arranged for you by a recruiter, do not skip this step with the self-defeating thinking that it's the headhunter's job to do the research for you.  Thus armed, you will be able to speak more intelligently to the potential employer.
Don't conduct the interview in your ratty sweats or PJ's.  The way you perceive yourself during an interview will translate over the phone.  You don't need to don a suit, but please, look presentable.  Ensure that your clothing is clean, ironed, and in good condition.  Men, please shave for the occasion.  Ladies, a sweep of mascara and a dab of lip gloss go a long way in the self-esteem department.  Sit up straight, like your mother taught you, so you sound more professional.  Slump and the tendency will be higher to slur your words or use slang: both of which will be the kiss of death during the screening process.
Take a deep breath and smile at yourself in the mirror.  Tell your reflection why you are a great candidate for this job; review your skill sets as well as your cooperative personality and ability to embrace new challenges.  Good mental/emotional preparation is key to a fruitful dialogue.
Have your resume, cover letter, and any other relevant documents at hand.  Use your full name to introduce yourself and thank the interviewer immediately for his or her time.  Do not use his or her first name.  This is a business meeting, so the proper salutations are Mr., Ms., Miss, or Mrs. If you are unsure of a female manager's marital status, Ms. covers all the bases.
Be prepared to answer all manner of questions related as well as unrelated to the open position. Questions are opportunities for employers to learn more about you, so sell yourself properly; talk about your accomplishments as well as your core competencies.
Close like a pro.  At the end of the conversation, thank the individual once again for having given you the opportunity to speak to him or her, and express your enthusiasm for the open position.
Follow up with a thank you letter.  This one simple act will present you as a serious, professional candidate.
Now, charge your phone and full speed ahead!
Similar Articles interviewing