Objective: Resumes and You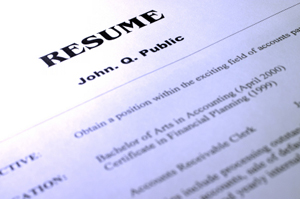 Your career is too important to leave to chance.  If this is your first job search, the position you ultimately land will have a major impact on your career progression and growth.  If you are a more seasoned candidate, your next position may represent a major step forward, career transition, career change, or the crowning achievement of your career.  In any case, your future is determined by the actions you take today.
Entering a job search campaign with a less than perfect resume is like boxing a skilled opponent with one hand tied behind your back.  Your efforts are seriously handicapped.  With hundreds and even thousands of candidates competing with you, you need the best possible resume to achieve the best possible results.
In fact, a Distinctive Resume is the Single Most Important Factor
in the Success of Your Job Search.
Working with Objective: Resumes to create your Job-Winning Resume is easy:
Simply click the

Order Now

link at the bottom of this page or, if you are proximate to one of our offices, call us to schedule an appointment.
Upon receipt of order or arrival at our office, you will speak with one of our experienced resume writers and career professionals.
Your experienced resume writer will gather facts, figures, and accomplishments about your career to date.  He/she will also assess your career goals and evaluate strengths and potential liabilities that may hinder your job search.
Your career professional will help you to uncover and articulate your "story."  Your story is simply what is you need to say about yourself and how you should articulate it.  Your story will become a part of your resume, cover letter, and thank you letters.  It will also become a part of how you talk about yourself in informal job conversations, interviews, and salary negotiations.  Most job-winners get the position because they told a great "story," and with our assistance, you will too.
Following the informational phase of the process, your resume writer will create documents that are the optimal reflection and expression of you, your qualifications, and your potential.  He/she will submit them for your review, usually within 2-4 business days – but, in as little as 8 hours if you choose our expedited preparation option.  Upon your approval, you will receive your finished documents in Microsoft Word format.
Our career professionals can also assist you in structuring and execution of an effective job search campaign.  Contact us for details.