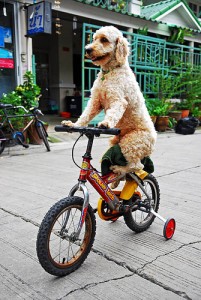 As God is my witness, I once dated a man who admitted on our first (and consequently, last) date that his goal in life was to become a professional student.  When I asked him to clarify this oxymoron, he explained that he'd hoped to achieve the highest level of education and continue to pile on more academic qualifications so as to delay his entry into the "real world" for as long as possible.  The man was intelligent as well as serious.  He was also obviously far out of touch with reality.
Most of us sketching our blueprints for long-term career growth include higher education in our plans.  Over the last few decades, many employers have refused to view candidates for growth-oriented positions if they did not possess Master degrees.  More recently, hungry job seekers have trumped their post-graduate peers through attainment of Doctorates. While a PhD may appear at first glance to be the crème de la crème of academic achievements, it is not feasible, due to time considerations and/or finances, for every job seeker to achieve a Doctorate.  If you are hunting for a job in this economy, then, how do you compete with your more learned peers?
The first step is to examine what, specifically, is needed in terms of additional training/education for you.  If there is a specific discipline that must master in order to appear more competitive and attractive to potential employers, it may mean returning to college in the evenings or perhaps enrolling in an online university.  Such undertakings can be costly.  You will have to weigh not only your current finances against the school's terms and timetable for remuneration, but the odds of landing a job, upon completion of your education, whose salary will be worth your blood, sweat, and tears.
If you explore distance learning, here is a caveat that comes from a source I trust implicitly.   Said source enrolled in a very popular online educational program, via an accredited school that advertises heavily in mixed media.   Schools are hurting in this economy along with businesses, and what this university did to my friend was fraudulent.  Claiming that she did not fulfill the requirements of specific assignments … a claim they'd made, interestingly, as her graduation date drew near … they demanded that, if she wished to receive her degree on time, she had to complete additional assignments, all of which carried additional fees for "processing and grading."  I reviewed my friend's course requirements and determined that she had indeed met every one of them via the assignments that she had completed and submitted to the school.  Between a rock and a hard place, she agreed and complied with the school's demands. 
At my suggestion, she also reported the school to the BBB (Better Business Bureau), having saved, as evidence, all of her email correspondence to and from the faculty and student adviser.   The moral of this story is, if you are considering continuing your education online, conduct a thorough investigation of the schools of your choice.   And please note my use of the plural: schools.   Do not limit yourself to a single institution; give yourself options.  Check with consumer protection agencies, such as the BBB, to see if others have lodged complaints against the school.  Compare the scope of the educational programs, the costs of tuition, and if at all possible, the statistics concerning the graduates of the programs in terms of their career advancement.  You don't want rhetoric on this last point; you want hard, supportable figures.  You want some accountability from the school.
If your educational needs do not require as great an investment of time and finances, consider a community college.   Such institutions are beneficial if you are pursuing a more finite training program, for example, one that focuses on a particular software application.   Although usually less expensive than four-year colleges and universities, community college tuition rates are not cheap.  Another option, therefore, would be to check out what local technical-vocational institutions are offering; their rates can be significantly lower.
Before you sign up for any course of study, do examine the qualifications of the teaching staff.   If the instructor(s) or professor(s) have careers that encompass the business world as well as academia, their dual acumen is an obvious benefit for job hunters wishing to apply their newfound knowledge to the world of commerce.
Depending upon what you are striving to learn and the requirements of your target industry, you may be better suited to a Certificate program sponsored by an industry-recognized expert or credentialed organization.  The hours are finite (usually no more than 40 training hours per course) and the programs result in Certificates, which some job seekers refer to somewhat erroneously as "Certification" in a specific discipline (i.e., Hazardous Material Training, Level One, via OSHA).
Bottom line:  you must research what is truly needed to help you reach the next rung of the employment ladder.  Take the school's promotional literature and sales pitch with a grain of salt.  And try to get referrals from past students, if at all possible, so that you will maximize your time, effort, and hard-earned dollars.
Similar Articles career advice