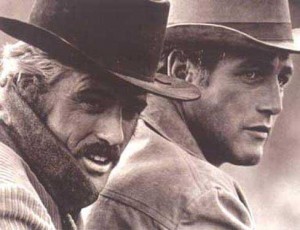 Do you remember this scene from the great old movie, Butch Cassidy and the Sundance Kid?  Pursued by the law, anti-heroes Butch (Paul Newman) and Sundance (Robert Redford) arrive at a bluff overlooking a long drop ending in churning waters.   Butch screams, "Jump!"  And his partner hollers back, "I can't swim!"  Confronted with personal questions on interviews, job applicants can be made to feel like Butch and Sundance at the end of that cliff: damned if they do, and damned if they don't.
Decades ago, the EEO (Equal Opportunity Commission) enacted legislation to protect job hopefuls against discriminatory practices of employers.  Nevertheless, many companies — either through live interviewers or printed applications — demand to know the following about the candidates who pass or attempt to pass through their doors:
1.       Nationality
2.       Religion
3.       Age
4.       Marital status
5.       Parental status
6.       Financial status / Salary history
7.       Service within the U.S. military
8.       Penal record
9.       Distance lived from the job site
None of these questions are legal.
Some employers ask them "innocently."   These are the companies that, ironically, must report such statistics to the government, in an effort to demonstrate that they are not subscribing to biased hiring practices.  Others, including certain organizations and institutions, must disclose this information because they rely upon governmental funds to stay in business and cannot afford to tick off Uncle Sam.  Still others ask such questions because they are seeking to weed certain "elements" out of their work force, including but not limited to women who have young children and are thereby deemed liabilities.
The best way to answer these questions is with one of the following responses:
1.       "As the EEO prevents you from asking such a question, I prefer not to answer it."   It is easier to respond in this manner when filling out an application; you can simply refuse to check off the various categories on the form.  But if led down this road on an actual interview, you are within your rights to give the same answer.
2.       "This question has no bearing upon the duties of the job."
Queries about ethnicity, religious affiliation, age, and marital and parental status can be addressed in the above cut-and-dried manner.  Employers seriously interested in you will conduct an investigation into your finances; it's an ugly fact, but true.   As it's done to gauge how responsible you are in your personal life, it is a cruel paradox for those seeking to clean up their credit histories through gainful employment.
While questions regarding service to the military are unlawful, the employer is allowed to ask if you anticipate the need to be away from the job for extended periods of time (as a member of the Reserves or National Guard might).  Inquiries concerning your criminal record are only sanctioned if the type of crime that you'd committed could impact the business conducted by the potential employer.  And the question regarding, "How far do you live from this company?" can best be answered with, "I will be on time for work, as I have been for my previous job(s)."
If you are seeking employment and feel that the interviewer has been prejudiced against you, you are within your rights to contact the EEO, which will have to make a determination about the legitimacy of your claim.   Understand that no job applicant is truly exempt from some form of bias, including reverse discrimination.  Reverse discrimination, which can be particularly insidious, always recalls a story that a friend relayed to me in the late '70's, along with the lesson that he'd learned from it.
Chuck, as we'll call him here, was a young, healthy Caucasian man seeking a technical position in Washington, DC, where he had recently relocated to be with his fiancé, whose own job had transitioned there.  Chuck possessed the requisite training and experience as well as a glowing recommendation from his former employer.  However, he kept hitting a brick wall in his job search.  Frustrated, he finally asked an employer what he was doing wrong.  "This is Washington, DC," he was told.  "We are bound to uphold certain legislation, and quite frankly, you are not a member of a minority."
The next time Chuck was asked to fill out a job application, he came across the question, "Are you a member of a minority?"   He wrote, "Yes; I am an Italian-American," and was hired on the spot.  Was this luck or coincidence?   We'll never know, but we do know this. Chuck used his brain, including his knowledge of EEO regulations, to land the job.   Regardless of your skin color or any other superficiality unrelated to the job, you must do the same if you feel that you have reached a similar brick wall.
Similar Articles career advice
Similar Articles interviewing