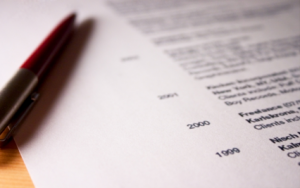 Laboring under the delusion that one's resume must, at all costs, be contained to a single page, too many applicants make the mistake of boiling their accomplishments down to succinct, trite phases.  Professional resume services understand that this is counterproductive. While it's still perfectly acceptable to present yourself as "an avid team player," "bottom-line oriented," and "embraces challenge," it's far more effective to expand upon those concepts in the text of the resume.
And if you opened this article hoping to find some of those choice phrases, we're sorry to say that you are out of luck.   For your resume to truly shine, you need to take an objective look at your career in order to differentiate specific accomplishments from day-to-day responsibilities, and then highlight those achievements.   If you don't, your resume will wind up sounding too much like those of your competitors — the very people you're aiming to beat out for a job!   For example, instead of saying, "Reduced costs," you might indicate, "Saved $1,500 annually by identifying and utilizing an alternate vendor," or "Reduced labor expenditures by $65,000 annually by cross-training staff in diverse work procedures."
If, for instance, your forte is sales, you are expected to increase sales and sustain existing business; that is your primary job function.  So, hone in on an accomplishment, such as, "Secured the business of a $500K per annum account on the verge of signing with the competition."  Or, "Convinced a new account to sign a long-term (four year) sales contract."
Oops; we just gave you some choice phrases after all!  They are simply to illustrate how you might best craft a powerful resume by expanding tried-and-true phrases to include your own personal accomplishments.  Every single employee, regardless of job function, has accomplishments.  Dig deep, if you must, to unearth and examine yours objectively.  Polish the words that will highlight your achievements, and your resume will shine like a diamond among a pile of coal. 
Similar Articles resume content
Similar Articles resume writing