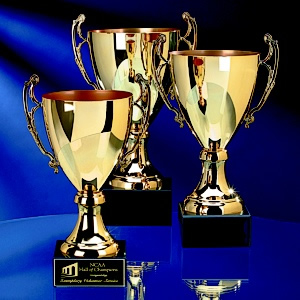 Every rational job applicant wants to put his best foot forward with his resume, and this includes the addition of formal awards and honors.  But, before you or a resume service writer takes up the valuable limited space on your resume with these, think about what you will include.
As God is our witness, we have seen grown men (a number of them, in fact) insist that we add high school awards from many years before to their resumes, and women bent on including their standing in local beauty pageants (who've applied for positions in which physical appearance was a non-factor).
Our list of irrelevant and ridiculous accolades goes on.  The Employee of the Month Award, when it was received but once and long ago, in a company in which the applicant had been employed for eight years.   The Rush Chairperson of the Semester Award.  The BTU Award for participation in the ABC-XYZ Project.  We're not kidding about that last mind-boggler.  When a certain telecom giant divested, we were inundated with these.  Not only did the majority of the applicants not remember what BTU signified nor the full name of the ABC-XYZ project or even what it was designed to do (!), the fact that they'd received an award for simply participating in the endeavor said nothing!   Of course, they participated in it: it was a job requirement, not an accomplishment!
Ergo, if you are in sales, for instance, list your awards and why they were received (i.e., "Generated 10% of sales in new business over goals").  If you are a chemist who contributed to the formulation of an innovative product, indicate what properties that product possessed that set it apart from its competition and, if you are able, what the product generated for your employer in terms of revenue.
We cannot stress this enough: keep your accolades relevant!  Remove anything that is ancient history, unless you've actually made history.  Remove anything that may make you appear frivolous or even dangerous (i.e., Hot Dog Eating Champion of Middlesex County, 2008).  Include only those awards and honors that genuinely indicate your achievements and work ethic.
Similar Articles resume content