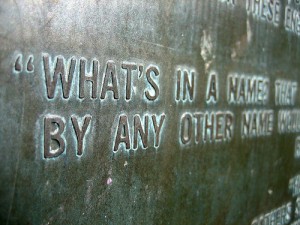 "A rose by any other name would smell as sweet," wrote Shakespeare, but remember, the Bard lived in a world more than four centuries ago.  In today's cutthroat job search arena, the presentation of your name could very well be the make or break factor in securing employment.
Employers confronting thousands of resumes do not have the time or patience to struggle with the pronunciation of a candidate's name.  If your name is lengthy, intricate, or exotic, consider altering it to something easier to pronounce.  We are not suggesting that you legally change your name; we are advising you to modify it as it appears on your resume and cover letter.  Arpin Chanawalla, for instance, can be abbreviated to Art Chana.
Your best strategy is to use the name by which you are most easily recognized, or wish to be recognized, in professional circles.  Via this approach, an applicant named Katarina Alana Jones could alter her first name to Kathy or Katherine and discard her middle name.
Take care, also, in your use of professional designations or university degrees as suffixes (information that follows your name).  If you are confident that it would benefit you to have an employer see your education immediately, you may use, for example, John Smith, M.B.A. or Carol Alton, M.Ed.  Know your audience and understand the nature of the jobs for which you are applying.  If you are seeking lower-level positions as they may be easier to secure, advertising your higher education can brand you as "over qualified."
Names extend to email addresses.  Anything remotely along the lines of angeleyes@gmail.com, kissmekate@optonline.net, and flutterby@yahoo.com will paint you as frivolous, not a serious applicant.  It only takes a few minutes to establish a new, professional email address.  If you are smitten with your furrykittens@gmail.com, keep that for purely personal usage.
While we are on the subject of email, be sure that the name of your document will enable pressed-for-time employers to find it easily among the sea of emails through which they must wade.  Resume1.doc, for instance, may mean something to you.  But it will remain buried treasure in the employer's oceanic In Box — and that is the best-case scenario.  More than likely, it will be deleted, as it cannot be readily identified.  A document name such as KarlEkins.Resume.November2009 clearly identifies the sender, the contents of the email/attachment, and the date that it was created.
Similar Articles career advice
Similar Articles resume content