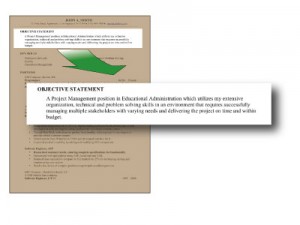 Does you resume truly need to open with an Objective?  As no two job-applicants share the same exact career goals and work history, this is a question that candidates must answer for themselves.  However, here are some solid guidelines.
An objective is most beneficial if you are applying for a very specific, posted position.
If you are contacting the employer in an exploratory fashion, a targeted objective may work against you.  It may close the door against another position for which you are suited, and which may indeed be open, but which you had perhaps had not considered.
If the objective must be written broadly, be sure that it contains references to your skill sets and experience. Otherwise, the objective will come across as dull and self-serving.
If you decide to omit the objective in the resume, is it permissible to insert it somewhere else?  Certainly.  A cover letter is a sensible option, as is an email message accompanying your attached resume.
One caveat with Step Number 4.  As the cover letter and email message enable a longer discussion, if you will, be sure that you tell the employer exactly why you feel you are a perfect fit for the job.
Your ultimate objective, of course, is to secure the interview and land the job.  Help yourself to realize your goal with these tried and true tips.
Similar Articles resume content