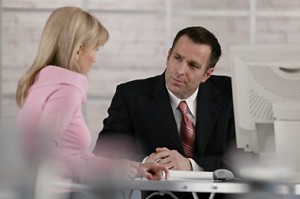 Despite the concept of a justice system being a contradiction, the United States has the finest justice system in the world.   It works best when it operates as it was meant to, in protecting law-abiding, hard-working taxpayers from predators of all kinds, including the big boys in Corporate America.  Bear this in mind as you venture into the arena of interviews, particularly if you have not interviewed in quite some time.
The aftermath of 9/11 engendered the controversial Patriot Act and other less noticeable, but no less significant acts of invasion of privacy into the lives of private citizens.  With so many job hopefuls and so few jobs, corporations attempt — illegally — to squeeze very personal and usually irrelevant information out of job candidates as they are screened for potential employment.   Know that the EEOC (U.S. Equal Employment Opportunity Commission) protects you, the job seeker, against such practices.
The regulations established by the Commission state that it is illegal for potential employers to ask you to divulge information concerning your age, religion, nationality, political affiliation, sexual orientation, marital and family status, and disabilities that will not hinder your performance as an employee, as per the formal job description.  In addition, employers may not specifically ask you how far your home is located from the job, if you are willing to relocate, or if you possess a criminal record unrelated to the functions of the job for which you are interviewing.
Questions about your military status are not as cut and dried.  You may not be denied employment because you are a member of the National Guard or the Reserves, but companies do retain the right to ask you if your military obligations will necessitate extended stays away from the workplace.
Traditionally, women have been asked if they have or intend to have children and if so, the ages of said children.  Additionally, married women were often asked about how their husbands felt about such issues as overtime or traveling for business.  If faced with such questions, you might respond, "You know you can't, by law, ask me these questions."   However, a better approach might be to add something similar to the following:  "I have nothing to hide, so I'll just tell you what you want to know."  Of course, in so doing, you should tell them only what You want them to know.
By adopting this approach, you put the prospective employer on notice that you are intelligent and wily.  In a better economy, I would tell you that these traits would be desirable in a potential employee.  In this economy, however, I'm not sure that that is still true.  When you yourself face this line of questioning in an interview, your intelligence will be insulted and you may sense discrimination at work.  Indeed, it may be.  Head it off at the pass by remaining calm and professional.  Your best counterattack is to ask the interviewer what bearing your marital status or your children, for example, have upon the responsibilities of the position.   You can refer to the formal job description that you will have found on the company's website, and can point to the fact that the requirements include a college education and at least three years of experience in the field, but that nothing is stated about an applicant's marital or parental status.         
If you are pressed, you may plead the Fifth Amendment.  It is your right to refuse to answer any illegal question, and you may do so — politely but firmly.
Be sensitive to what happens next in term's of the interviewer's attitude.  If you feel that the tone of the interview has changed, and that the hiring manager is no longer taking you seriously as a candidate, it may indeed be a case of discrimination.  You have recourse by way of a potential investigation and lawsuit, by accessing the EEOC's information page  The site will also provide you with detailed information concerning Title VII of the Civil Rights Act of 1964, the ADA (Americans with Disabilities Act), and the ADEA (Age Discrimination in Employment Act).
Knowledge is power.  To educate yourself is to protect yourself as well as the people who depend upon you to bring home a paycheck.
Similar Articles interviewing